Developing a sustainable coffee economy
One of the objectives of the International Coffee Agreement 2007 is to encourage Members to develop a sustainable coffee sector in economic, social and environmental terms. This is reinforced by Article 36, which refers to the principles and objectives on sustainable development contained in Agenda 21 adopted at the United Nations Conference on Environment and Development, and those adopted at the World Summit on Sustainable Development.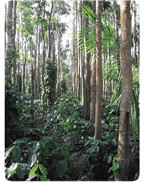 The Organization is working to promote an awareness of the need for a sustainable coffee economy by making stakeholders in the coffee sector aware of the threat to sustainability posed by negative economic conditions for producers, and proposing measures in areas such as quality, promotion and diversification to maintain balance in the world coffee market.
Recognizing the exceptional importance of coffee to the economies of many countries which are largely dependent upon this commodity for their export earnings and for the achievement of their social and economic development goals, the Organization also encourages sustainable development and poverty reduction in producing countries through projects which have as their principal beneficiaries the coffee producing countries of Africa, Asia, Latin America and the Pacific region.
Environmental and social issues
The contribution made by coffee growing and trading to environmental and social issues is highly positive, certainly compared with most alternative economic activities. On the environmental side coffee is an evergreen shrub, hence an important contributor to carbon sequestration, and is effective in stabilizing soils. It also permits the preservation of much of the original bio-diversity in planted areas.
One of the main problems for some regions is water pollution arising from wet processing. To address this issue, the Organization assists coffee farmers in producing countries to use environmentally-friendly technologies for the washing process through pilot projects in Africa and Latin America.
It is vital that coffee production and processing should take into account environmental needs to ensure sustainability. It is also necessary that the economic environment should encourage stability and reasonable living standards for the populations involved with coffee, and ensure the maintenance of quality. In practical terms, the ICO encourages coffee quality improvement through projects dedicated to improving cultivation, processing, storage, transportation and marketing practices. It also encourages efforts to strengthen regional capacity in the field of coffee certification and verification such as through a multi-country project in Eastern Africa to create a regional centre for certification and an outreach programme for producers.
Coffee also makes a positive contribution on the social side to maintaining substantial rural employment and stable communities. Improving the living standards of coffee producers, especially smallholders, is a priority for Governments, as highlighted at the last World Coffee Conference. Relevant ICO activities include building the capacity of institutions, improving access to credit and risk management mechanisms, reducing vulnerability to income volatility and promoting gender equality.
Climate change
Whereas climatic variability has always been the main factor responsible for fluctuations of coffee yields in the world, climate change, as a result of global warming, is expected to result in actual shifts on where and how coffee may be produced in future. Several adaptation and mitigation strategies for coffee producers have been put forward in response to the challenges facing the sector. Short-term adaptation strategies include improved farming practices and better post-harvest processing. Longer-term strategies include capacity-building, improved monitoring of climate data, enhancing soil fertility, introducing or preserving different production models, and developing drought and disease-resistant varieties. In more extreme cases, the solution may be to diversify out of coffee or shift production to more suitable areas. Mitigation strategies include calculating and reducing greenhouse gas emissions on the farm, and facilitating the creation of carbon sinks.
More information: